---
Manhattan Commercial Real Estate Broker
Jeff Hersh
Managing Director
212-268-8301
Specialized Submarkets: Broadway / Chelsea / West Village / Flatiron / Fashion Center / Fifth Avenue / Noho / Penn Station / Soho / Times Square / TriBeCa / Upper East Side / Upper West Side / Wall Street
---
---
Prior to commercial real estate, Jeff spent 10 years in Finance, working for a major global financial firm. He served as Manager of Business Development and Strategic Alliances for the large market Institutional Client Group. In this role, Jeff developed new business and product models, formulated highly effective sales strategies and negotiated multi-million dollar contracts for Fortune 500 companies.
In addition to his financial and real estate background, Jeff is an entrepreneur. During the dot-com era, he founded and operated a consulting firm that specialized in helping small business achieve maximum operating capacity.
---
Clients
Cambridge Corporate Services
261 11th Ave
Girlie Action Media Management
243 W. 30th Street
Direct Action Media
5 West 37th Street
more clients
Testimonial
Having worked with many real estate brokers, Jeff distinguished himself with his knowledge, professionalism and service. His tremendous efforts resulted in my finding a great property and he was instrumental in all aspects of the process: conducting a thoughtful search; identifying a desirable property; negotiating terms of lease; and orchestrating lease review and signing efforts.
I have great admiration and appreciation for all of Jeff's contributions and view him as a trusted partner.
Bradley Albright
CEO of Escape Entertainment
more testimonials
---
Why Did I Get Into Real Estate?
Real Estate is a dynamic and rewarding career. It provides the opportunity to work with a diversified group of individuals and businesses. I have assisted entrepreneurs and executives from all industries in finding the perfect space to run their business - to mention a few: Technology, Marketing & Advertising, Fashion, Entertainment, Law, Art, and Finance. Whether you are a start-up or mature business, I have the experience to help you navigate the commercial real estate markets.
What is the Key to Being Successful In This Business?
Getting to know your customer is the most important part of any real estate transaction. When you take the time to understand your customer's requirements and really get to know what they need, you maximize the time spent together by focusing only on properties that meet these needs.
What is Most Important? Location or Budget?
Customers use real estate professionals for a reason, because we are the experts. So part of my job is to help customers set their expectations. I provide the necessary insight into the market, so together we can make an informed decision on which properties are right for your business and your budget.
Business Philosophy
My philosophy is simple, "The Tenant always comes first". In this business, you can't always win, but if you follow this, you can never go wrong.
---
Jeff's Office Space Listings
Avenue of the Americas
Midtown Manhattan
Office Space
4,500 SF Listing #JH032518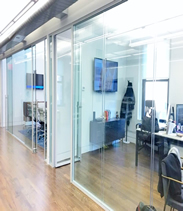 The interior was just gut renovated and newly built less than one year ago. The layout includes 1 large corner office (which can flex as a second conference room or team room), 1 large conference room that seats 10 to 12 people, 2 smaller meeting rooms (a.k.a. huddle rooms, break-out rooms) that seat 2 to 4 people, 1 private phone booth - open and collaborative workspace, which seats 32+ people.
---
Grand Street & Mulberry Street
3,300 SF Listing #JH022718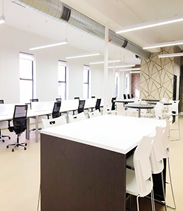 These office spaces can accommodate any number of layouts and are ideal for a company with 15 to 30 employees seeking mainly open plan office space, 1 to 2 Private Offices, 1 Large Conference room and several areas that can be used for smaller 2 to 4 person meetings. Additionally there is a great space for a soft seating lounge in front of the fireplace and under the beautiful kinetic chandelier...
Available Sizes: 3300 to 9900 SF x3 Spaces Now Available
---
Broad Street
Financial District
Office Space
7,679 SF Listing #JH1002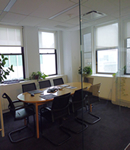 Full floor triple corner unit. Tower floor. Beautiful river views. This highly renovated office space offers the latest in modern finishes and fixtures. Marble entry and reception, full height glass front offices and conference rooms, sleek and modern pantry with white cabinets and stainless steel appliances.
---
Financial District
Financial District
Office Space
6,472 SF Listing #JH1001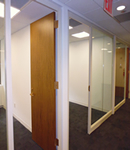 Ultra-modern office space available for lease. Class A building offering move-in ready, beautifully renovated office space. Each space is meticulously finished with full front glass offices, full front glass conference rooms, generous open and collaborative work space, reception, wet pantry and ample room for storage, IT and administrative functions.
---
West 21st Street
2,723 SF negotiable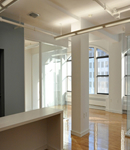 This pre-built unit has 3 large rooms plus open area, conference room, private bath, pantry with sink, utility room, tenant controlled A/C. The space has high ceilings and is located in front of building with a wall of windows that bring in great light all day. It is in great condition and the existing layout can accommodate any type of business, so you can move right in.
---
West 22nd Street & 6th Avenue
7,500 SF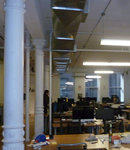 CLASSIC. Step off the elevator into this expansive private full floor office space in a Manhattan loft layout. The space features exposed brick, polished maple floors, high exposed beamed ceilings. Glass partitions have been utilized in the construction helping to separate key areas of the office in a stylish yet unobtrusive way. From the glass walls to the double exposure on two sides of this corner unit – the loft herein benefits well from its position in the building coupled with the chosen buildout. In total this listed space is fully renovated and stands today in pristine condition awaiting the right business tenant.
---
West 23rd Street
2,500 SF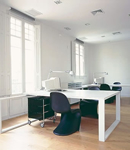 This unit is mainly wide open space with 1 office and beautifully built out kitchenette (sink, cabinets, dishwasher, fridge), hardwood floors in excellent condition. High ceilings, wood floors, and video intercom. Central heat and air condition. The open floor plan can accommodate any business. Take as is or reconfigure.
---
West 25th Street & 7th Avenue
5,000 SF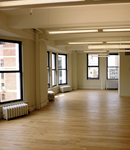 ULTRA PRIME Commercial loft available now in 5,000 SF. full floor spaces. Due to the assortment of spaces within the building there are a number of vacant flexible layouts today. The most consistent feature to them all are their generous proportions that offer you a mix of private offices, conference rooms, and a reception in each unit. A great feature of the office is the fact that the space benefits from windows at three sides of the unit allowing for a great cross breeze and indirect sun exposure throughout the work day. Part of the renovation process addressed the oak floors which have been beautifully restored back to a fine finish. Due to the range of spaces specific details to each have been omitted herein; to find out more about the individual units please contact us. The offices offer leasing terms that range from 3 to 10 years otherwise each is available immediately.
---
West 26th Street
2,723 SF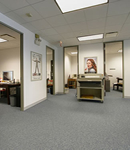 This pre-built unit has 3 large rooms plus open area, conference room, private bath, pantry with sink, utility room, tenant controlled A/C. It is in great condition and the existing layout can accommodate any type of business, so you can move right in. The landlord will do some work if you would like to change the layout. Very flexible...
---
West 40th Street & Broadway
Penn Station
Office Space
8,000 SF divisible negotiable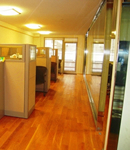 Sublease -- Built space -- Windowed Offices and open work area furniture & tel. avaialble Lock in a great sublease office rent price. Newly Built Office Space, Great Sublet Deal. Save Time and Avoid Frustration Utilize Prime Manhattan Realty to identify the perfect space at NO FEE.
Available Sizes: 8,000 SF / 5,000 SF / 3,500 SF / 1,780 SF
---
West 55th Street
3,600 SF negotiable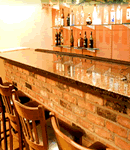 Immersed in a dense upscale neighborhood, you are surrounded by Fifth Avenue's premier shopping district and global corporations where power lunches prevail and expense accounts pay the tab. This steady flow of foot traffic is complemented by high net worth tourists and locals looking for a nice place to dine while waiting for a concert at Carnegie Hall or taking a walk in Central Park.
---