---
Manhattan Commercial Real Estate Broker
Tujuan Garner
Managing Director
646-485-5891
Specialized Submarkets: Broadway / Chelsea / West Village / Flatiron / Fashion Center / Fifth Avenue / Noho / Penn Station / Plaza District / Soho / Times Square / TriBeCa / Upper East Side / Upper West Side / Wall Street
---
---
TJ started working at Prime Manhattan Realty in August of 2014. After six years on the residential side of real estate, he was drawn to the commercial sector by a colleague and mentor. It was his goal to work in the residential market first and then expand to commercial and now he is following his dream to become one of the best commercial real estate agents in the business.
Tujuan has always valued hard work from stocking shelves in his parent's grocery store as a teenager to a diverse career in the restaurant and service industry. After graduating with an undergraduate degree in Economics from City College of New York, TJ has worked as a bartender, promotor, manager, mentor and waiter. Recognizing himself as a natural people person with the ability to get along with different types of people from different ethnic and cultural backgrounds, TJ believed real estate would be the perfect fit.
"My character traits have always reflected honesty and a straight forward approach to life. I figured if I could bring that element to the business and help people find solutions to their real estate concerns, then real estate would be good to me."
---
Clients
AmeriLink International Corp
820 Second Avenue
ARA Consultants, Inc.
50 Broad Street
Beuchert/Saban & Grussie
419 West 55th Street
CWA Local 1101
275 Seventh Avenue
Damu Design LLC
133 West 33rd Street
Dr. Jeff Hershrey Ziar
161 Madison Avenue
more clients
Testimonial
We would like to take this opportunity to thank your team for your excellent service in finding a new office for our company, the Center for Economic and Social Rights. Prime Manhattan Realty was integral to our securing a lease for our new 2,281 square foot space at 86 Chambers Street. We appreciate that you were always available to review thoroughly with us all leasing and acquisition options for our relocation.
We appreciate the hard work and dedication exhibited by Prime Manhattan Realty fostering a great relationship. TJ was instrumental in the success of acquiring our new office space. He went above and beyond expectations, showing us all of the spaces within our size and price range in the lower Manhattan area, and remaining attentive during a months-long office search.
TJ has proven to be a great resource for local market knowledge, comparable, and new deals. He listened to our needs, did his research, and only showed us spaces that fit our needs and, therefore, I did not waste time running about the city looking at things that would not work for us.
We have recommended your firm to others for office leasing. We look forward to doing future transactions with your company.
Rebecca Berger
Administrative Assistant, The Center for Economic & Social Rights
more testimonials
---
TJ's focus in real estate is to become as knowledgeable as possible and to provide a high quality of service to his clients. He strives to build his knowledge and skill set to help tenants solve their real estate challenges with the effort and ease it takes to swipe a metro card. Simply put, providing good customer service, knowledgeable experience to task, and smart work is TJ's daily goal in the commercial real estate world.
Tj's specialty is being able to see a space, understand the clients' needs, help them envision how that space would solve their needs, and guide them through the process of securing it. Neighborhoods he has experience in finding space include Gramercy, Flatiron, Midtown East & West, Grand Central, Columbus Circle, SoHo, Tribeca, and the Financial District.
---
Tujuan's Office Space Listings
125th Street
Harlem Office Space
2,000 - 20,000 SF Listing #TJ040118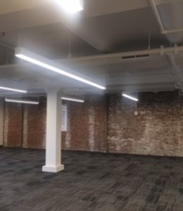 Newly posted on the market are a number of offices ranging from 2000 to 20000 SF in size. Each available office has been built to a first-class standard where you will recognize the use of quality materials and impressive finished throughout. Each unit contains a differing configuration ranging from a mix of perimeter offices to that of an open layout - with some of the spaces already featuring a pre-built pantry in the space.
---
Fifth Avenue
Grand Central Office Space
3,300 SF Listing #TJ032018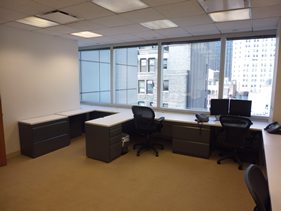 The current space comes equipped with phones and furniture and is also wired for both Data & Voice. The space available on offer consists of 2 windowed private offices with glass fronts, each of which features a desk, chairs, and some cabinetry. These private offices look out upon a staff working area configured into an open work space consisting of two clusters of workstations totaling 6 to 9 seats. The remainder of the office contains a reception, pantry, and conference room all of which are used on a shared basis herein.
---
Fifth Avenue
Flatiron Office Rental
3,700 SF Listing #TJ022118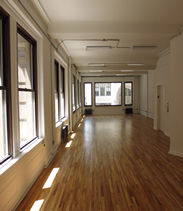 The space itself is known as a high-end open space with gleaming hardwood floors and many windows for tons of natural light. By its use of wood and glass the space remains bright and airy which helps give the space volume while being bound within a full floorplate. In total this is an outstanding commercial space built to the highest contemporary standard...
---
Flatiron Office Rental
Fifth Avenue
3,700 SF Listing #TJ100917
The space itself is known as a high-end pre-built that has 5 glass private offices, 2 glass conference rooms, a pantry, open space for 5 to 8 workstations. By its use of wood and glass the space remains bright and airy which helps give the space volume while being bound within a partial floorplate. In total this is an outstanding commercial space built to the highest contemporary standard / the color palette belays a sense of comfort and warmth that is lost in most other offices within this size range.
---
Midtown Manhattan
Fifth Avenue
4,200 SF Listing #TJ112018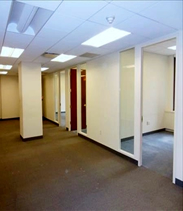 This stunning 4,200 sq ft office space in the heart of Midtown is available for immediate lease. The beautiful pre-built office space features 5 windowed offices, 1 conference room, and an open bullpen. A beautiful recently upgraded pantry with stainless steel appliances is included in the space. This amazing Midtown location is a stone's throw away from the historic Grand Central Terminal and Bryant Park. Enjoy the close proximity to upscale shopping, fantastic restaurants, and chic cafes. It is easily accessible by the Subway, Grand Central Station and Bryant Park Station.This is an ideal space for a Tech, Advertising, Investment, or Marketing...
---
Flatiron District
5th Avenue>
12,000 SF Listing #TJ041118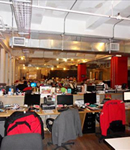 Full floor office presence that is move-in ready today; the commercial unit has been configured into an open collaborative layout (room for 20 - 30 workstations) that is supported by some interior offices and meeting rooms; the space features 2 private windowed offices overlooking the front of the building, 2 small conference rooms (that can be used as additional offices), 1 large conference room (can accomodate a team of 10 to 12), and a large eat-in pantry with room for staff of 6 to 8. This full floor unit also contains a spacious storage room towards the rear of the space.
---
Bryant Park
Midtown Manhattan
8,000 SF Listing #TJ032218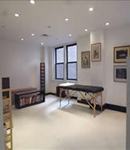 This available commercial space features an open layout with 2 partitioned glass offices that stand at the perimeter of the office; each of the offices enjoy operable windows overlooking the front of the building property. The space is futher supplemented by large storage room which can be converted to another office or two, plus a lounge area which is currently being used for ping pong and downtime. The space is rounded off with the inclusion of a pantry with granite countertops and a private bathroom. The landlord who is willing to build to suit the tenants needs; lease term 5 years+
---
Penn Station
Midtown South
Size Varies Listing #TJ100518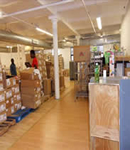 Nestled south of 34th street and only steps from Penn Station lies a one of a kind space that is perfect for the Creative type or General Office type tenant. Recent renovations include new large windows, eight in the front with northern exposure, and four in the back with southern exposure. There is an abundance of natural light that brightens the space tremendously.
---